Recent News & Events

June 26, 2015
Indiana water leaders take action to avoid crisis, prepare for future
State's largest utility announces 2.7 billion gallons of new water supply

INDIANAPOLIS, June 26, 2015 -- Indiana's top water leaders announced plans to take significant steps forward to prevent water shortages in the state and focus on economic development opportunities in the sector. New laws, regional collaboration and creation of a large reservoir were highlights of the 2015 Indiana Water Summit held this week in Indianapolis.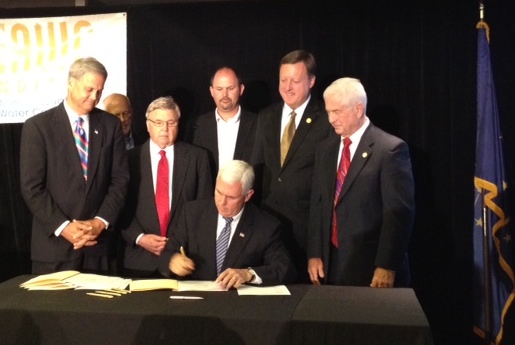 New Indiana water legislation addresses supply and infrastructure

"I believe today represents material progress in how we put water at the center of economic development," said Indiana Governor Mike Pence, who signed several new state laws to monitor the state's water supply and better enable water infrastructure funding. "Our water resources are a vital part of our future economic success."

Citizens Energy Group, which operates the largest water and wastewater utility in the state, announced plans to add a major new water source for Central Indiana by repurposing an 88-acre stone quarry into a new reservoir. The 230-foot deep water supply is expected to hold 2.7 billion gallons and provide for more than 15 years of future growth in the region.

Collaboration in the state was also a major topic, as Citizens announced a regional planning initiative and the Indiana Utility Regulatory Commission announced a fall billing symposium to identify best practices and better service for utility customers. State legislators also spoke on the need to leverage opportunities with regional water clusters and to drive local innovation in water technologies.

"It's great to see attention to these important issues at the top levels of our state," says Erik Hromadka, CEO of Global Water Technologies. "By working together, we can make Indiana a state that works to provide innovation solutions for critical water challenges that impact every family and business."

The water summit was held by the Indiana chapter of the National Association of Water Companies, which represents private providers of water services to nearly 73 million people in the United States.

FORWARD-LOOKING STATEMENT:
Statements in this press release relating to plans, strategies, economic performance and trends, projections of results of specific activities or investments, and other statements that are not descriptions of historical facts may be forward-looking statements within the meaning of the Private Securities Litigation Reform Act of 1995, Section 27A of the Securities Act of 1933 and Section 21E of the Securities Exchange Act of 1934. Forward-looking information is inherently subject to risks and uncertainties, and actual results could differ materially from those currently anticipated due to a number of factors, which include, but are not limited to, risk factors inherent in doing business. Forward-looking statements may be identified by terms such as "may," "will," "should," "could," "expects," "plans," "intends," "anticipates," "believes," "estimates," "predicts," "forecasts," "potential," or "continue," or similar terms or the negative of these terms. Although we believe that the expectations reflected in the forward-looking statements are reasonable, we cannot guarantee future results, levels of activity, performance or achievements. The company has no obligation to update these forward-looking statements.